Security
Protect Your Neighborhood
NEIGHBOURHOOD SECURITY RESOURCE SHEET
by Peter Teasdale and Peter von Hahn,
Members of the Windsor Park Neighbourhood Security Committee. January 2020
Your neighbourhood security committee has compiled and reviewed materials relating to crime prevention published by the Edmonton Police Service, the Alberta Motor Association and the City of Edmonton. Following is a summary of key points:
Reporting a Crime or an Incident
– call 911 for a crime in progress or a life-threatening emergency.
– for non-emergency reporting call the Edmonton Police Service at #377 from a mobile device or 780-423-4567.
– or, use on-line reporting for theft or vandalism crimes where the loss or damage is under $5000, at www.edmontonpolice.ca/reportacrimeonline. The system will ask you a series of questions. – or, go to a police station to complete a crime report.
Make your Vehicle Theft Proof
– do not leave your vehicle running while unattended.
– remove valuables and shopping bags from view.
– close all windows and lock all doors.
– do not leave Personal ID, vehicle registration/insurance documents or credit cards in your vehicle.
– do not leave these in your vehicle: remote control for garage door, or keys to vehicle or house.
– park in well-lit areas at night.
– invest in visible security features like alarms, steering wheel locks and ignition disablers.
– display an "All Valuables Removed" sign in your driver's side window. Such a sign has been created by the Neighbourhood Empowerment Team (NET), a partnership between the City of Edmonton, the Edmonton Police Service, the Family Centre and United Way of the Alberta Capital Region.
 Keep your Home and Garage Safe from Thieves
– keep your doors secure.
– reduce the vulnerability of your windows (strip of wood in sliding track/ curtains/ auxiliary locks).
– Consider installation of sensors, alarms, cameras (many 'smart home' products now available for do it yourself (DIY) security).
– lock all garage doors, and bar and cover those windows.
– while you are on vacation: – cancel the newspaper and stop mail delivery
– have a friend or service take care of your yard
– have someone check your home frequently
– use timers on interior lights – don't leave a key hidden outside Keep your Deliveries and Packages Safe Spring 2020 11
– if you are having a package delivered to your home, you may want to have it held at the depot or delivered to a neighbour to ensure it is not stolen by porch pirates.
– if you see a package on your neighbour's porch, and you know they are not home, consider safeguarding it for them until they return.
Keep your Bicycle Safe
Following is some practical advice on bicycle security from Peter von Hahn:
– Record serial numbers of all bicycles (they are almost always printed on the underside of the frame, beneath the bottom bracket
– where the pedal crank axle goes through the frame).
– Register bikes with Bike Index: https://www.edmontonpolice.ca/CrimePrevention/HomePropertySafety/ProtectYourProperty/BikeIndex
– File a police report as soon as possible if a bike is stolen.
– Always secure bikes with a sturdy lock, even inside locked garages.
– Best locks are U-locks with a thick, hardened steel shackle, which must be cut in two places to get through the lock. Thick, hardened steel chain is a good option if longer reach is needed. ABUS and Kryptonite make some of the best locks. Run U-lock shackles around both the bike frame and front or back wheel – especially if locking outside. – Do not use a cable lock: they are very easy to cut. – Lock bikes to something that is equally or more difficult to cut than the lock (e.g. concrete anchor – also sold by ABUS and Kryptonite).
For more information on keeping your property safe, check out:
– 9 Smart Tips to Outwit Vehicle Thieves on the Alberta Motor Association website https://ama.ab.ca/2018/02/20/outwit-vehicle-thieves – Crime Prevention Through Environmental Design on the Edmonton Police Service website. https://www.edmontonpolice.ca/CrimePrevention/CommunitySafety/CPTED
Here is how you can help:
• Get to know your neighbours and the vehicles that belong in your neighbourhood. When you
know the people who are from your area you are better able to know when a car or person
appears to be out of the ordinary.
• Pay attention to your surroundings as you move through the neighbourhood; note the little details
like an open garage door or back gate. Be aware of potential hiding spots, recent vandalism,
burned out street lights or unsightly garbage.
• Take action, if you see something unusual;
o Call 9-1-1 if it is an emergency where life, safety or property is in immediate danger or
there is a crime in progress.
o Call the non-emergency line with concerns or information on a previous crime
780-423-4567 or #377 (on mobile devices).
o Remember that certain crimes, like theft from a vehicle or damage to property, can be
reported online at edmontonpolice.ca or by using the EPS Mobile App.
o Graffiti, burned out street lights, unsightly or unkempt properties can be reported to the
City of Edmonton by calling 3-1-1 or the Edmonton311 App.
o Share the information you have on crime prevention strategies, such as in the Crime
Prevention Through Environmental Design (CPTED) Guide, contact net@edmonton.ca for
a copy.
o Let your neighbours know when their gate or garage door is open or if there is something
that makes their property vulnerable.
• Stay up to date on reported crimes in your area by accessing the Edmonton Police Service's
Neighbourhood Crime Mapping tool.
We all want our communities to be as safe as possible. Even the smallest piece of information can help
reduce crime and disorder. If you would like to learn more about community safety and crime prevention
contact the Neighbourhood Empowerment Team (NET) online.
For Further information Contact WPCL Security Lead Arthur Kloc Security@windsor-park.ca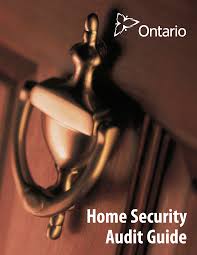 Click through to find a Home Security Audit Guide to help you protect your home