History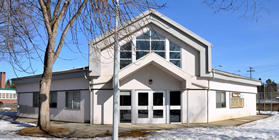 League Founded: 1947
First President: Alex Ratcliffe
History of the Windsor Park Area
When the Edmonton settlement was first surveyed, the area now called Windsor Park neighbourhood was River Lot 3, and in 1882 it was owned and farmed by Allan Omand. The neighbourhood became part of Edmonton in 1912 when Edmonton and the City of Strathcona amalgamated.
The Windsor Park Subdivision was created in 1911, just prior to amalgamation during the land booms in the early part of the century. In the same year, the site immediately to the east (River Lot 5) became the University of Alberta campus. In spite of this early start, most of the area remained undeveloped until the 1940s and 1950s, when it was partially re-subdivided and developed. In 1955, construction of the Groat Road Bridge improved access to central Edmonton.
Windsor Park is almost exclusively a neighbourhood of single-detached housing. A small number of businesses that serve local residents and university students within the surrounding area are located along 87th Avenue. The neighbourhood, located adjacent to the North Saskatchewan River Valley, affords residents easy access to the Capital City Recreation Park system, as well as spectacular views from vantage points along Saskatchewan Drive. The neighbourhood is also unique for its proximity to, and interface with, the University of Alberta (U of A).
The western border of the U of A's north campus, which accommodates the newly constructed Electrical & Computer Engineering Research Facility, faces onto a row of gracious residential homes in Windsor Park. The primary U of A undergraduate residence, Lister Hall, is also located adjacent to the neighbourhood, just south of 87th Avenue. The Northern Alberta Jubilee Auditorium is within walking distance of the neighbourhood, as is the U of A Hospital.
Windsor Park was named by an English syndicate in 1910, when it was purchased for residential development. The neighbourhood may have been named after Windsor, England, or after the Windsor Castle specifically.
Source
University Area
This university area community league first used the Medical Building and the U of A to plan and organize. A clubhouse was completed in 1949 at its 11814 - 87th Avenue site. A community center built two years later served the league until a renovation took place in the 1970's and again in the early 1990's. The league recently refurbished the playground and worked with the City on Neighbourhood Renewal.
The Windsor Park community league has been the site of many social and educational events over the years. There were figure skating demonstrations, drama presentations and an annual Fireworks Extravaganza in the 1950's. Later wine and cheese gatherings were added as were barbecues and Christmas carolling, Italian nights and Oktoberfests.
This area's proximity to the University has meant that one of their biggest problems has been demanding better enforcement of parking and traffic bylaws in the neighborhood.
A brief history of the planning for the flower park adjacent to the school grounds is available on pages 6-8 of the linked newsletter.
We would like to expand this history of our neighbourhood! If you have old photographs, clippings, or stories, please let our webmaster know. We can scan old photographs.