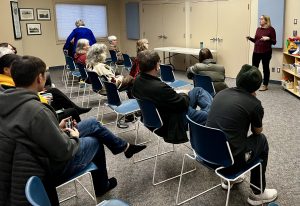 The social hall of the Windsor Park Community League is available for rent by non-profit organizations and individuals.  The league's agreement with the City of Edmonton does not permit the hall to be rented to businesses or individuals for business purposes. 
The hall contains sufficient tables and chairs to seat 50 people.  For a stand-up affair, as many as 70 people may be accommodated.  It contains a limited kitchen with an electric range, two hot-pots, two large percolators, two cold large cold drink containers, a full sized refrigerator and sink for washing and a microwave oven.  The hall does not provide dishes or utensils.  Kitchen users should bring towels, dishrags, dish soap, dishes and utensils, plates, cups, and napkins as required.  For events involving the kitchen, it may be advisable to arrange a visit prior to the event to become familiar with the space.
The hall has a podium and a projection screen.  With advance arrangement, it may be possible to use the league's projector and amplifier system with microphone.
For events serving alcohol, proof of insurance must be provided.  This can usually be obtained as a temporary rider on most homeowners' insurance policies.
The hall does not offer full accessibility.  There are no power doors and the washrooms do not meet modern accessibility standards.  A site visit prior to use may be advisable to assess accessibility for those with special requirements.
A table of prices is provided below.  For events providing a direct benefit to the Windsor Park community, it may be possible to arrange for a waiver of fees.