Windsor Park Planning Park Amenities for
October 7, 2020 Update
Windsor Park Sustainability Committee – Renewable Energy Community Survey: With all this sunny fall weather the WPCL Sustainability committee thought it would be appropriate to tell everyone about the new solar power system you may have noticed on our community league building. We're also looking for feedback on what we can do next!
On October 2nd 2019 a solar photovoltaic system was installed by Newo Global Energy on our south facing community league roof. The system was designed to meet just over 100% of the community league's electrical load (the maximum allowed by the micro generation regulation in Alberta). This 5.58kW system cost  just over $18,600 and the league was lucky enough to be able to access some municipal (EcoCity)  and provincial (MCCAC) grants that covered about 88% of the cost of the system.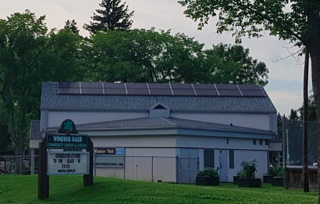 May 2020, the Windsor Park Community League updated park site plan for our neighbourhood park, finalized. We gratefully acknowledge a Park Planning Grant from the City of Edmonton in 2019 that allowed us to prepare this park plan.
The updated park plan includes space for three amenities that would increase the use of the park by all ages:
Small Spray Pad and Water Station in the playground area

Fitness Circuit: 5 fitness stations for a range of ages along the trail through the park

Garden, Games and Gathering Space: enhancements in the north park (the flower park) that would include low maintenance native and edible plants, games tables, labeling a selection of heritage trees, and rebuilding the retaining wall and stairs.
An Open House was held on March 11, 2020 for community residents and other park users, such as the school, daycare, afterschool program and playschool. The park plan was revised based on the feedback. 
A summary of the feedback shows strong community support for all three amenities. Development of the amenities will take place in phases over the next several years.
Phase 1 involves moving forward with Spray Pad and Water Station project and the Tree Labeling project in the north park. League funds have been set aside for these projects, and matching grant funding will be sought for the Spray Pad and Water Station project.
Committees have been formed to work with the City of Edmonton on these projects.
Windsor Park Preschool
Miss Alison Neudorf – Teacher
Nick Johnson – President
Sarah Symes – Registrar
Our Preschool is honored to operate out of the Windsor Park Community League building.  Please visit our website at windsorparkpreschool.com